2021-22 Winter MEAT CSA SHARE
Get a chance to try nose-to-tail cooking and eating by signing up for this share which we run through a partnership with Stoneboat Farm in Helvetia. In each full share pickup (2/month – matching the Stoneboat veggie box schedule) you will typically receive 4 (sometimes more) different meat/animal items from our farm (and we offer ½ shares as well, suited for individuals, smaller families, or people who eat less meat). Our meat is frozen, so you can always choose whether to thaw and cook the food soon or save it in your freezer.
Expect everything from beef roasts to ground lamb to bones for making stock and the occasional adventure challenge (but mostly things you're used to!). To get some ideas of the range of possible offerings, you can look at the examples we've listed at the bottom of this page, or at our farm meat cuts/price list. Fall is butchering time, so most of those "sold out" notes will soon be going away, and we'll have full freezers to pick from for the winter CSA meat share.
Our meat is truly different from the grocery store. The animals are completely pasture-raised and finished, ensuring the benefits from things like leaner cuts, more Omega-3 fatty acids and more antioxidants, as well as freedom from things like antibiotics and hormones. We also provide recipes every week to help you learn how to cook this different style of meat – such as slow cooked dishes that make healthy collagen more accessible. We've been Stoneboat winter CSA customers from the start, so we focus on recipes that will use what's in your Stoneboat veggie box, as elements of your meat dishes or a harmonious part of your overall meal. For those who have participated before, there are always new recipes!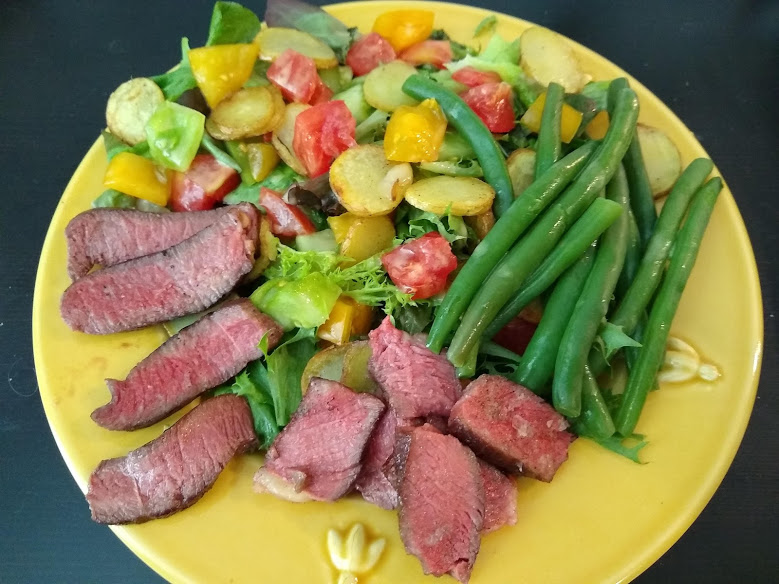 Runs November 6 (Hollywood; 9th for Stoneboat) to March 12th (15th) – 20 weeks as 10 pickups on alternate weeks (following the Stoneboat vegetable pick-up schedule)
$410 whole share; $205 half share – either payable bi-monthly as $41/$20.50 upon pick up or with a discount for paying in advance in full ($386 full share, $193 half share)
Pay directly to Wingham Farms (cash, check, Venmo or credit card) by contacting Daniel & Julie at daniel@winghamfarms.com or phoning 503-927-7977
Pick up at Stoneboat Farm (Tuesdays) or Hollywood Farmers' Market (Saturdays)

If the CSA seems like too much commitment right now, our meat is also available for purchase by the piece on request, and we bring it to Stoneboat/Hollywood for you to pick up alongside your vegetable box. Check our our meat cuts/price list on our web site, make your selections, and email (daniel@winghamfarms.com) a day or more ahead of the box delivery date to make your request. We send you the price (with a preorder discount!) and can pay by cash or check when you pick up the items, or contact us to pay over the phone.
Questions? Call Daniel at 503-927-7977 or email to Daniel@winghamfarms.com
Examples of past meat CSA shares: Full shares
A small cured ham (approx. 2 lbs.), 1 scant lb. eye of round or top round steaks, 3 lbs. beef bones Recipes: beef stock from bones, carne asada tacos
1 lb. ground pork, 1 lb. ground beef, 1 dozen chicken eggs, 2 lbs short ribs. Recipes: baked scotch eggs, spicy pork "unroll", instant pot short rib ragú
Holiday Special: choice of a 2.5-3 lb. brisket to make slow-cooked brisket or corned beef OR a 3.5 lbs. beef chuck roast OR a 3.5 lb. Pork Roast OR a whole roasting chicken (approx.. 4 lbs) OR a 3 lb. ham AND for all: 1lb of ground lamb and 1lb of ground beef. Recipes: make your own corned beef
2 lbs. pork steaks, 2 lb. lamb shoulder roast, 1 lb. ground beef or ground pork. Recipes: savory pork steaks cooked in milk, slow-cooked rosemary roast
For half shares: we provide smaller items, and/or cut back on the number of items – for example, the share above might be changed to 1 lb pork chops, 1 lb of lamb shoulder steaks and a ½ lb of eye of round (or a smaller portion of ground beef – sometimes there are pkgs that are distinctly under 1 lb (.85 for ex.) that we can't sell, so we will provide them in the CSA)